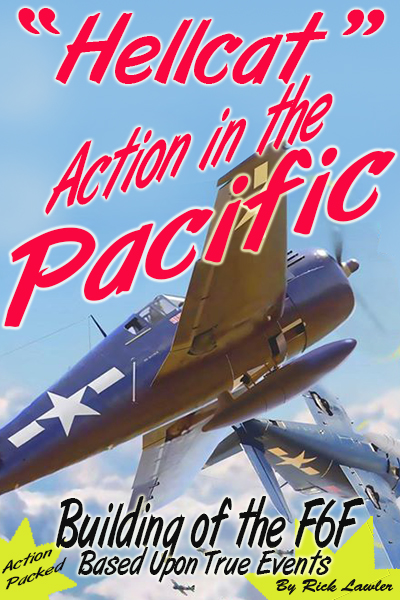 The F6F Hellcat design started development as a upgraded version of the F4F Wildcat design, but by the time a final design was completed it had became a completely different breed altogether, not even sharing any parts with her predecessor. F6F Hellcat fighters were designed to be produced efficiently, and additional features such as heavy armor and self-sealing fuel tanks were installed to provide additional safety to the pilots. The first of these carrier fighters took flight on 26 Jun 1942 and the first combat-ready squadron was deployed aboard USS Essex in Mar 1943. They first saw action against the Japanese six months later when F6F Hellcat fighters of USS Independence attacked and shot down a Japanese seaplane. On 23 Nov 1943, F6F Hellcat fighters engaged Japanese Zero fighters over Tarawa in the Gilbert Islands and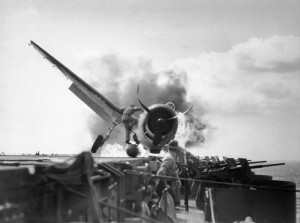 scored 30 kills at the loss of only one. Repeated overwhelming victories hinted that the United States had finally produced a fighter design that not only matched but exceeded that capabilities of the feared Zero. By the end of the war, they participated in nearly every engagement in the Pacific since their introduction in 1943 and achieved a kill:loss ratio of 19:1.
US Navy Ensign George Orner, a F6F Hellcat fighter pilot aboard USS Franklin, recalled his liking for his fighter.
The Hellcat was a terrific airplane and very effective fighter. It was positively a piece of cake to fly; just a dream…. The difference between the F4F [Wildcat] and the F6F was night and day. We had more range, more speed, more power… more everything.
US Navy Ensign Byron Robinson, an aircraft maintenance officer also of USS Franklin, also shared similar fond memories of F6F Hellcat fighters. "I dearly loved the F6F", he said, "I could keep almost ninety percent of those aircraft in the air. It was very simple airplane to maintain because there was little [in the] way of a hydraulic system." The simplicity in design was a reflection of Roy Grumman's motto "build it strong, keep it simple, and make it work."F6F Hellcat fighters were also sent to the British Fleet Air Arm under the Lend-Lease Act. The British initially called them Gannet fighters, but by early 1944 the designation of Hellcat was unified across Allied command. Under British command, the F6F Hellcat fighters saw action off Norway, in the Mediterranean, and in the Indian Ocean. The British F6F Hellcat fighters did not achieve as great a kill:loss ratio as their American cousins, but they were still considered great carrier fighters by British pilots.
In addition to the F6F Hellcat standard fighter variants, a night fighter variant and a photo reconnaissance variant were also produced. The 12,272th and last F6F Hellcat fighter was completed in Nov 1945. The stunningly high number of aircraft built was also attributed to the purposeful simplicity in the design.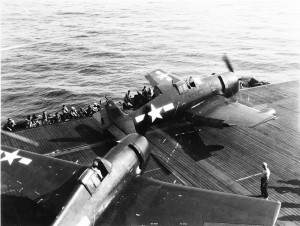 For the most part, the entries I post onto the Propaganda Pages are centered around the particular project being discussed.  The model, the techniques and –  and at times – maybe a little of what is going on in my world.  Over the past few months, however, my real world job has mostly precluded any time for modeling.  It's a situation that causes me quite a bit of inner turmoil.  Over the years I have witnessed many of my friends and co-modelers loose touch with this hobby; time becomes short, interest levels wain and ultimately the cluttered workbench becomes nothing more than a nagging reminder of past plastic battles.  My turmoil, my concern – yes, my fear – is that my time, my passion and pursuit of the hobby may be becoming just another casualty of real world pressures.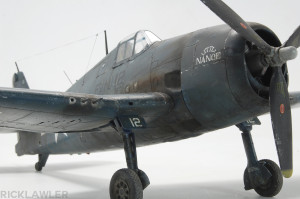 How could I have let this happen?  It's a good question – so let me briefly explain.  My job (other than working with AMMO) is that I am the 3D Department head for a company that creates all types of retail and artistic displays.  In many ways it is a dream job as my department employs the latest in technology and is filled with very talented digital and traditional artists.  Someday I might share some of the work that we have produced.  The problem is that it is a very demanding environment where the workload is heavy and the timelines are very short.  It is not uncommon that we work 7 days a week, 12-16 hours per day for weeks at a time; it is a situation and work environment that has become untenable. Fatigue and burnout have replaced my free time and enthusiasm. It's no wonder that my modeling has suffered!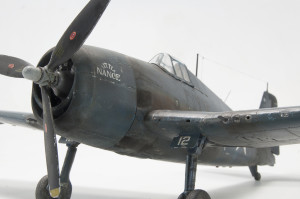 But, like I mentioned, the fact that my hobby has taken a backseat to the rigors of life bothers me to no end.  I am not prepared to simply let my life or my hobby simply slip away.  This project, the Hellcat, represents my effort to squeeze in a quick build just before Christmas, 2014.  I had taken a small amount of time off for the holidays and the first thing I did was pull this model from my stash and rip through a quick build.  Nothing fancy; I just needed to keep my hands busy – I needed to reacquaint myself with plastic and paint.  In the period since returning from my short holiday my work-load has only increased to the highest level and modeling (and the rest of my life for that matter) has again taken a backseat to the job.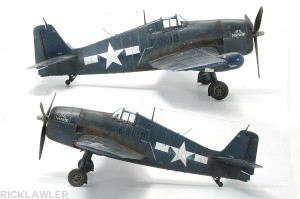 And so, tomorrow I plan to announce my departure from my current employer.  However, my decision to depart is not a decision to become unemployed.  As a matter of fact, it might be a decision that will ultimately become more taxing on my time – at least for a period –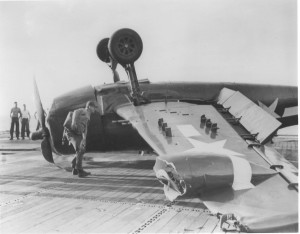 as I (along with a few others from my current department) will be striking out on our own – creating a new business along the same lines.  We are starting a new 3D digital and production company that will serve fine artists, entertainment, manufacturing and retail clients. My role? Managing Director; it's a big task and a big responsibility.   The difference is that we will be working for ourselves, and with that "freedom" I intend to regain some balance back into my life.
My hope is that in the (very) near future I will be posting another entry onto the Propaganda Pages, my modeling time and enthusiasm restored.